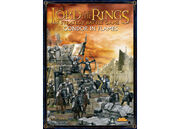 In the heart of Middle-earth lies an ancient realm, a kingdom founded in exile and forged through martial prowess. Standing between the free peoples to the west and the evil nations to the south and east, it has ever been a shield against the shadow of Mordor and the terrible power of the Dark Lord. This is the kingdom of Gondor, scion of Numenor and tireless protector of Middle-earth.
This is a supplement for Games Workshop's The Lord of The rings Strategy Battle Game - you will need a copy of the rules in order to play.
Ad blocker interference detected!
Wikia is a free-to-use site that makes money from advertising. We have a modified experience for viewers using ad blockers

Wikia is not accessible if you've made further modifications. Remove the custom ad blocker rule(s) and the page will load as expected.