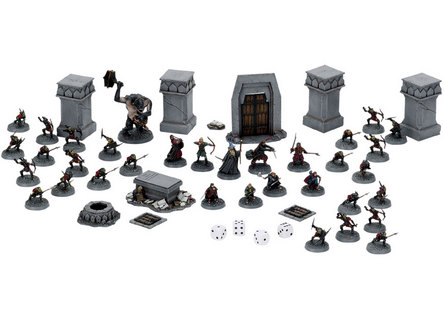 An ideal first purchase for anyone new to wargaming or existing gamers who want to begin playing The Lord of The Rings Strategy Battle Game, the enclosed starter booklet has easy-to-follow examples and a step-by-step introduction to the game, while the rulebook contains all of the information you'll need to play the game proper. The two forces provided will allow you and a friend to begin playing right away - these finely detailed, plastic, citadel miniatures have been specially designed to allow you to quickly assemble a force, ready for your first battle. For existing The Lord of The Rings players, this set provides some unique scenery and a handy, pocket-sized rule book, great for taking along to tournaments and events.

This boxed game contains: 34 miniatures, a pocket sized The Lord of The Rings rulebook, a full-colour starter booklet, dice, templates and some plastic scenery.

Included in this set:

The entire fellowship including: Boromir,Aragorn,Frodo,Sam,Gimli,Legolas,Gandalf,Merry and Pippin

And a Cave Troll
Ad blocker interference detected!
Wikia is a free-to-use site that makes money from advertising. We have a modified experience for viewers using ad blockers

Wikia is not accessible if you've made further modifications. Remove the custom ad blocker rule(s) and the page will load as expected.