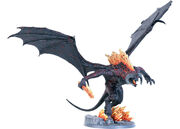 When the drums in the deep boom, Goblin hordes and lumbering Cave Trolls emerge and muster for war. But in the dark places of the world there are worse terrors, monsters from an earlier age that now rouse to battle.
COMMON MISTY MOUNTAINS HEROES
Edit
ARMY BUILDERS FOR MISTY MOUNTAINS
Edit
RECOMENDED STARTING POINT FOR MISTY MOUNTAINS
Edit
1. Purchase the Balrog,(10 Wound!!!) he is one of the greatest heroes in the game!
Ad blocker interference detected!
Wikia is a free-to-use site that makes money from advertising. We have a modified experience for viewers using ad blockers

Wikia is not accessible if you've made further modifications. Remove the custom ad blocker rule(s) and the page will load as expected.