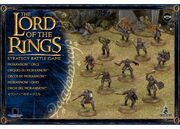 Morannon Orcs were a stronger type of orc that is available to the forces of Mordor.
A stronger strain of Orc has appeared within the armies of the Black Gate and Barad-dûr - the Morannon Orcs. Their armour is thick and strong, providing them additional resilience. This enhanced wargear, coupled with the Morannon Orcs' increased strength, makes them ideal shock troops for Sauron's war against Minas Tirith.
Ad blocker interference detected!
Wikia is a free-to-use site that makes money from advertising. We have a modified experience for viewers using ad blockers

Wikia is not accessible if you've made further modifications. Remove the custom ad blocker rule(s) and the page will load as expected.