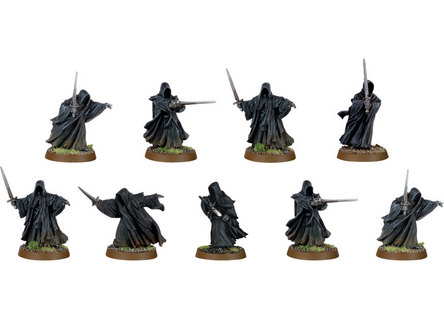 The Ringwraiths, or Nazgul, were once the Kings of Men, the bearers of the magical rings created by Sauron. Their rings granted endless life but gradually enslaved the Kings to
Saurons
will. Together with their leader, the
Witch-King
of
Angmar
, they are known as the Nine and are the most deadly of Sauron's servants.
The Ringwraiths are included in the following set(s) -Ringwraith foot and mounted
SBG
            F S D A W C  M    W   FT 

Ringwraith 5/- 4 8 1 1 6 0-2 7-14 0-2
Magical Powers: Black Dart; Compel; Drain Courage; Sap Will; Transfix Wargear: Sword Special Rules: Might/Will/Fate; The Will of Evil; Harbinger of Evil; Ringwraiths and the Ring; Terror

WAR OF THE RING
              Race Type M F S D A R C Mt 

Ringwraith Spirit Hero - 5/- - - - 2 5 1
Epic Actions: Epic Strike. Special Rules: Spirit Grasp, Terror, There are Nine
Ad blocker interference detected!
Wikia is a free-to-use site that makes money from advertising. We have a modified experience for viewers using ad blockers

Wikia is not accessible if you've made further modifications. Remove the custom ad blocker rule(s) and the page will load as expected.