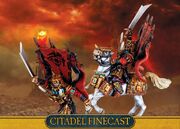 Suladân, general of the Serpent Horde and supreme commander of Harad's armies, was already a renowned chieftain in Harad when he ventured into ruined Kârna and found the sword of King Mardat, the Serpent Lord. Since then, the name of the Serpent Lord has once more become famous throughout Harad, and grows further still with each victory.
Statistics
Edit
Ad blocker interference detected!
Wikia is a free-to-use site that makes money from advertising. We have a modified experience for viewers using ad blockers

Wikia is not accessible if you've made further modifications. Remove the custom ad blocker rule(s) and the page will load as expected.