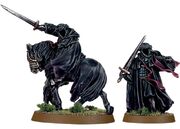 Cursed long ago for yielding the Southlands to Sauron's rule, the Betrayer is driven by malice and self-hatred that knows no bounds. Of all the Nazgûl, the Betrayer is amongst the lowest of Sauron's lieutenants, for even the Dark Lord is leery of placing faith in one who betrayed his kin so readily.
Statistics
Edit
                  F S D A W C M W FT

Ad blocker interference detected!
Wikia is a free-to-use site that makes money from advertising. We have a modified experience for viewers using ad blockers

Wikia is not accessible if you've made further modifications. Remove the custom ad blocker rule(s) and the page will load as expected.