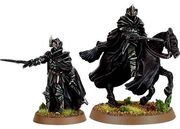 In the centuries since the Dark Marshal and his fellow kings became Ringwraiths, he has become even more sadistic and malicious. The most black-hearted and unrelentingly cruel of all the Nazgul, his name is a byword for misery and death. Where the Dark Marshal passes, Evil creatures fight harder, fearful of their lives whilst Good warriors feel the icy touch of death upon their hearts.
Statistics
Edit
                  F S D A W C M W FT

Ad blocker interference detected!
Wikia is a free-to-use site that makes money from advertising. We have a modified experience for viewers using ad blockers

Wikia is not accessible if you've made further modifications. Remove the custom ad blocker rule(s) and the page will load as expected.