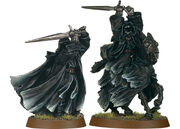 The Dwimmerlaik is possibly the most mysterious of all the Nazgûl, for scant record of his past deeds exist in the tomes of the Wise. Yet in Rohan, this particular Ringwraith is feared beyond all others, for he has been a blight upon that realm for centuries untold, directing the Dark Lord's minions against the Sons of Eorl.
Statistics
Edit
                  F S D A W C M W FT

Ad blocker interference detected!
Wikia is a free-to-use site that makes money from advertising. We have a modified experience for viewers using ad blockers

Wikia is not accessible if you've made further modifications. Remove the custom ad blocker rule(s) and the page will load as expected.