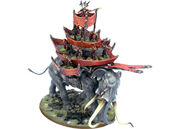 The men of the east have fallen under Sauron's deceitful shadow. Tribal warriors, mercenaries, Corsairs and Easterlings descend upon the lands of Men. United under Sauron's banner they may bring Middle-earth to its knees.
COMMON HEROES FOR THE FALLEN REALMS
Edit
ARMY BUILDERS FOR FALLEN REALMS
Edit
Ad blocker interference detected!
Wikia is a free-to-use site that makes money from advertising. We have a modified experience for viewers using ad blockers

Wikia is not accessible if you've made further modifications. Remove the custom ad blocker rule(s) and the page will load as expected.