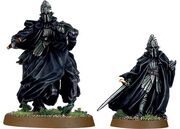 Like all of the Nazgûl, the Knight of Umbar's past is shrouded in mystery. If the rumours pertaining to him hold any truth, he was once one of the great Númenórean kings who ruled the Southlands prior to the days of the Last Alliance.
Statistics
Edit
                  F S D A W C M W FT 

The Knight Of Umbar
References
Edit
Ad blocker interference detected!
Wikia is a free-to-use site that makes money from advertising. We have a modified experience for viewers using ad blockers

Wikia is not accessible if you've made further modifications. Remove the custom ad blocker rule(s) and the page will load as expected.