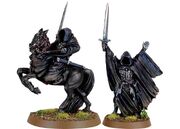 The Shadow Lord was once the king of a small and insignificant kingdom. When Sauron offered him one of the Nine Rings, the promise of its power proved irresistible. Now, his physical being all but gone, and his will enslaved to Sauron, the Shadow Lord wears his dark pride like a cloak, blotting the sun from the sky and dimming the sight of his foes.
Statistics
Edit
                  F S D A W C M W FT 

The Shadow Lord
References
Edit
Ad blocker interference detected!
Wikia is a free-to-use site that makes money from advertising. We have a modified experience for viewers using ad blockers

Wikia is not accessible if you've made further modifications. Remove the custom ad blocker rule(s) and the page will load as expected.