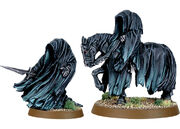 Where the other Nazgul were slowly swallowed by the taint of their rings, the Tainted gave himself wholly and willingly to Sauron. Now all natural things rebel in his presence, vegetation withers, animals sicken and bold warriors cower. He is an abomination whose merest presence is poison to life, honour and hope.
Statistics
Edit
                  F S D A W C M W FT 

The Tainted
References
Edit
Ad blocker interference detected!
Wikia is a free-to-use site that makes money from advertising. We have a modified experience for viewers using ad blockers

Wikia is not accessible if you've made further modifications. Remove the custom ad blocker rule(s) and the page will load as expected.