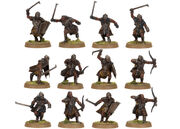 The Uruk-hai Scouts are sent by Saruman to track down the Fellowship of the Ring, to bring any Halflings back to Isengard, and slay the rest of the members. Like all Uruk-hai they are aggressive, untiring warriors, who will march day and night in the pursuit of their quarry and fight them to the death when they catch up with them. They were, in part, responsible for the death of Boromir of Gondor and the breaking of the Fellowship at Amon Hen.
Statistics
Edit
http://www.games-workshop.com/gws/catalog/productDetail.jsp?prodId=prod1500492a
Ad blocker interference detected!
Wikia is a free-to-use site that makes money from advertising. We have a modified experience for viewers using ad blockers

Wikia is not accessible if you've made further modifications. Remove the custom ad blocker rule(s) and the page will load as expected.