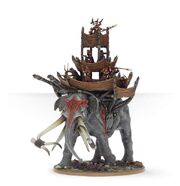 The armies of Harad often employ Mumakil, massive war-beasts trained by the Mahud, to trample their enemies under colossal hooves. A Mumak is nigh unstoppable once it begins its charge, tossing aside enemies like broken dolls. The largest model in The Lord of The Rings range, a Mumak can break through an enemy line while Haradrim warriors rain deadly arrows from atop the howdah on its mighty back.
Ad blocker interference detected!
Wikia is a free-to-use site that makes money from advertising. We have a modified experience for viewers using ad blockers

Wikia is not accessible if you've made further modifications. Remove the custom ad blocker rule(s) and the page will load as expected.